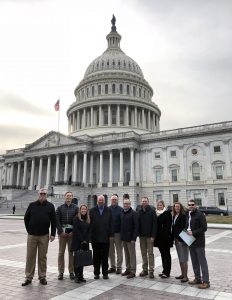 The Emerging Leaders Program is designed for professionals in the crop insurance industry that seek to increase their knowledge and hands-on experience with key issues. The program will help build the next generation of crop insurance leaders.
Program Benefits
Enhance your leadership skills and knowledge of policy issues.
Participate in CIRB meetings such as the Annual Meeting and Fly-Ins.
Network around the country with CIRB Executive Committee Members and leaders in the industry.
Learn about policy issues and future challenges facing the industry through CIRB webinars.
Eligibility Requirements
The CIRB Emerging Leaders Program is open to employees of Crop Insurance and Reinsurance Bureau member companies. Member companies must nominate applicants. Selected participants are required to pay an initial fee set each year by the CIRB Executive Committee and must cover the costs of their travel to events. Applicants whom are selected must commit to participating in the full program schedule of events.
Contact Information: Questions about the program or application process? Contact CIRB by calling 202-544-0067 or email Perry Harlow.