Throughout the year, CIRB will spotlight members of the 2018-19 Emerging Leaders Program and share about their experience in the program.
Bret Keeler
Marketing Representative, ARMtech Insurance Services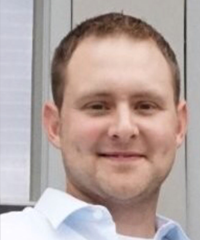 Bret Keeler has been working in the crop insurance industry since 2009, after completing a bachelor's in Finance from Kansas State University. Bret started as an accountant and has since moved into sales roles. Bret is responsible for the growth and retention of ARMtech's portfolio in Kansas, Colorado, and northern Oklahoma.
In November, the 2018-19 Emerging Leaders Program class went to Minneapolis, Minnesota to join the CIRB Executive Committee for their quarterly meeting. "It was a great experience going to Minneapolis and having the chance to meet all of the members of the CIRB Executive Committee as well as the rest of the members of the 2018-19 Emerging Leaders Program," he said. Keeler is looking forward to "future [ELP] meetings and advocating for the crop insurance industry as well as the farmers we all serve."
Keeler lives in Assaria, Kansas with his wife and two sons. They operate a small family farm on the original quarter of ground that his great-great grandparents homesteaded in the late 1800s. Follow him on twitter at @bkeelerksu.
The Emerging Leaders Program is designed to equip up-and-coming professionals on key policy issues and prepare them to be effective advocates for the crop insurance industry. All participants are employees of CIRB's growing membership, which includes both crop insurance and reinsurance companies.