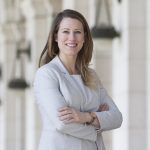 Barbara Patterson
Vice President
As a Vice President, Barbara Patterson advises CIRB members on a wide range of legislative and regulatory issues impacting the crop insurance and reinsurance industry.
A Michigan native, Patterson joined Michael Torrey Associates in February 2018.
Before joining Michael Torrey Associates, Patterson worked as Government Relations Director for National Farmers Union where she advocated for family farmers, ranchers, and rural communities in Congress and the executive branch. She focused on trade, livestock, competition, nutrition, and food safety.
Patterson also managed a cooperative agreement with the Food and Drug Administration to provide education and outreach to local food producers and processors on the implementation of the Food Safety Modernization Act.
Prior to her employment with NFU, Patterson worked as a policy associate for New England Farmers Union. Patterson advocated on behalf of small- and mid-size farmers on food safety and environmental issues.
Patterson has a Bachelor of Arts degree in History from the University of Michigan and a Master of Science degree in Agriculture and Nutrition Policy from the Friedman School of Nutrition Science and Policy at Tufts University.